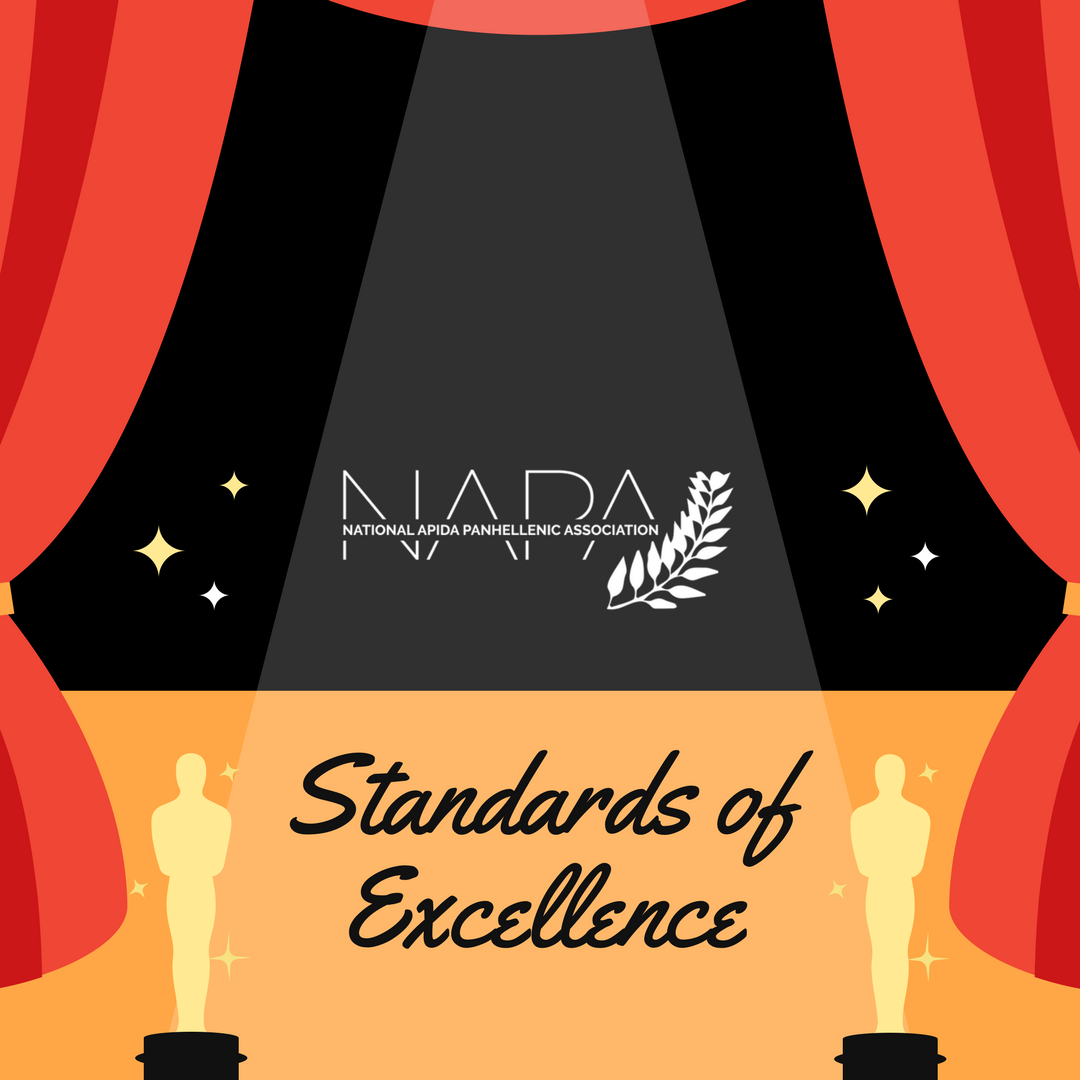 2017 NAPA Standards of Excellence Award Recipients
For Immediate Release
Atlanta, GA—The National APIDA Panhellenic Association hosted its inaugural Standards of Excellence Awards at the close of the Association of Fraternity and Sorority Advisors Annual Meeting (AFAAM). "This marks an important milestone for NAPA and we are very proud to be able to recognize those who contribute to making our community better," says NAPA Chair Hannah Seoh.
Having recently celebrated its 10th anniversary at the 2016 AFAAM, NAPA has doubled in size in just a decade. What started as an alliance of nine chartering constituent organizations flourished to a coalition of 18 APIDA fraternities and sororities. Congratulations to the following award recipients!
Individual Recognition
Change Agent of the Year: Sagar Shah, Delta Epsilon Psi
Professional of the Year: Victoria Lee, alpha Kappa Delta Phi
Advisor of the Year: Huey Hsiao, Campus Advisor for Syracuse University Lambda Phi Epsilon
NAPA Volunteer of the Year: Teri Chung, Kappa Phi Lambda
Undergraduate of the Year: Aakash Trivedi, Delta Epsilon Psi
Local Chapter Recognition
Outstanding University Council: Multicultural Greek Council at University of Alabama at Birmingham
Outstanding Philanthropic Programming: University of Florida alpha Kappa Delta Phi
Outstanding Educational Programming: Syracuse University Lambda Phi Epsilon
Outstanding Cultural Programming: Cornell University alpha Kappa Delta Phi
National Recognition
Alumni Initiative of the Year: alpha Kappa Delta Phi National Alumnae Association – aKDFit Virtual 5K
Social Media Campaign of the Year: Delta Kappa Delta – #BubblesForOmran
Collaboration of the Year: Delta Epsilon Psi & Delta Kappa Delta – National Convention
The 2017 application cycle received 49 submissions reviewed by nine judges across a wide range of student affairs backgrounds.
NAPA is grateful to have the support of volunteer reviewers that encompass a diverse range of student affairs perspectives. We thank them for their tireless service to the profession! #AFAAM #NAPAUNITY pic.twitter.com/mSJXX4AR3h

— NAPA (@NAPAHQ) December 5, 2017
"It gives me immense pride to see the multitude of individuals who are dedicated to NAPA's mission and am so impressed with all of their contributions, commitment, and innovation in serving our communities, says Delta Kappa Delta Sorority Past President Pujitha Kallakuri. "They truly deserve for their work to be acknowledged, and am excited to see how this will inspire more members."
"As a veteran student affairs professional, the talent, engagement, and dedication to living fraternal values shown by a number of the applications is impressive," says Eastern Washington University Director for Budget and Administrative Services Samantha Armstrong Ash. "The world is a better place because these nominees are making a difference."
###
About NAPA
NAPA organizations set the gold standard for Asian Pacific Islander Desi American (APIDA) fraternities and sororities. In addition to meeting the association's base standards, NAPA member organizations are exposed to resources and expertise to help them continually improve and be the best they can be. Universities, Greek Councils, and students want the best APIDA fraternities and sororities on campus and they can find them in NAPA.
Contact
Bryan Dosono
NAPA Director of Membership
membership@napa-online.org