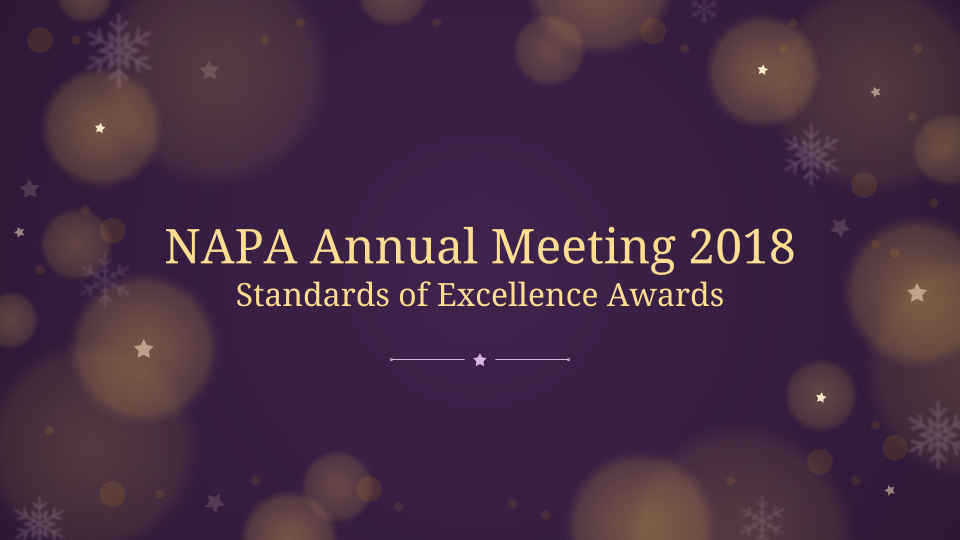 2018 NAPA Standards of Excellence Award Recipients
Indianapolis, IN—The National APIDA Panhellenic Association hosted its annual Standards of Excellence Awards at the close of the Association of Fraternity and Sorority Advisors Annual Meeting (AFAAM).
"Our organizations and members work hard all year and this is our way of recognizing and acknowledging all of their accomplishments in front of their peers and advisors," says NAPA Chair Hannah Seoh. "In our second year of presenting the awards we have seen an uptick in the number of applicants and we hope to see even more next year."
2018 Award Recipients
Individual Recognition
Advisor of the Year: Michael Wiseman, Office of Fraternities and Sororities at University of Massachusetts Amherst
Change Agent of the Year: Sagar Kaushik, Delta Epsilon Psi
Professional of the Year: Amy Duong Kim, alpha Kappa Delta Phi
Undergraduate of the Year: Anooshe Khan, Delta Kappa Delta
Volunteer of the Year: Bryan Dosono, Lambda Phi Epsilon
Local Chapter Recognition
Outstanding Cultural Programming: Binghamton University Delta Phi Omega
Outstanding Educational Programming: Cornell University alpha Kappa Delta Phi
Outstanding Philanthropic Programming: University of Houston alpha Kappa Delta Phi
Outstanding Recruitment Programming: University of Pennsylvania alpha Kappa Delta Phi
Outstanding University Council: University of Illinois at Chicago's Greeks of the Pan-Asian American Council (GPAAC)
National Recognition
Alumni Initiative of the Year: The Alpha Alpha Chapter of Delta Phi Omega Sorority, Incorporated at University of Minnesota – Twin Cities Alumnae Angel Fund
Foundation of the Year: Delta Phi Lambda Foundation
Publication of the Year: Delta Epsilon Psi Banquet Booklet, Vicennial Edition
Social Media Campaign of the Year: University of Iowa alpha Kappa Delta Phi – @UIThroughMyEyes
Collaboration of the Year: Be The Change 2018
"It's inspiring to see the great work our organizations are doing, and how they continue to change the impact on individual campuses as well as nationally. NAPA continues to push our organizations to do better and innovate in ways that our organizations could not do alone," says Delta Kappa Delta Sorority National Advisor Nandini Pillai. "These national recognition awards truly show how our organizations are making a large-scale impact and prospering as a whole."
2018 Award Judges
The 2018 application cycle received 73 submissions reviewed by 12 judges across a mix of student affairs, fraternity/sorority headquarters, and corporate professional backgrounds.
Individual Recognition Award Judges
Michelle Gee, Alumnae, Clemson Delta Phi Lambda Sorority
Rula Othman, National President & Founder, Epsilon Alpha Sigma National Sorority
Jaleesa Reed, National President, Delta Phi Lambda National Sorority
Michelle Lebrias, Vice President, alpha Kappa Delta Phi National Alumnae Association
Local Recognition Award Judges
Aurusa Kabani, Enforcement Extern, National Collegiate Athletics Association
Bilal Badruddin, Vice Chair-Elect, NAPA Executive Board
Ruchir Dixit, External Vice President, Delta Epsilon Psi National Fraternity
Victoria Yeow, Treasurer, alpha Kappa Delta Phi International Sorority
National Recognition Award Judges
Tanya Arditi, Public Relations Coordinator, National Multicultural Greek Council
Evan Ditty, Assistant Director for Training and Development, Fraternity and Sorority Life at The Pennsylvania State University
Nandini Pillai, National Advisor, Delta Kappa Delta National Sorority
Tracy Wang, National Vice President of Records, Delta Phi Lambda Sorority
"On behalf of the National Multicultural Greek Council (NMGC), it's a privilege to be able to read about the wonderful contributions and powerful impact that the NAPA organizations are making and having on their members, and in their campus and communities," says NMGC Public Relations Coordinator Tanya Arditi.
Celebrating Interfraternal Unity
This year also marked the 20th anniversary of the National Association of Latino Fraternal Organizations (NALFO). Officers from NAPA attended their Awards Reception to commend the special milestone of the umbrella council. "As an interfraternal partner, we wish them continued success and look forward to continuing to partner and support their organizations and members," says NAPA Vice Chair Vigor Lam.
A social exchange with alumni from NALFO and NMGC took place shortly after the NAPA awards reception. "It's truly affirming when three trade associations for culturally-based Greek-letter organizations get together," says NAPA Vice Chair-Elect Bilal Badruddin. "The fellowship builds on the networks developed throughout the conference."
###
Photos from the NAPA Standards of Excellence Awards are available on NAPA's Facebook page.
###
About NAPA
NAPA organizations set the gold standard for Asian Pacific Islander Desi American (APIDA) fraternities and sororities. In addition to meeting the association's base standards, NAPA member organizations are exposed to resources and expertise to help them continually improve and be the best they can be. Universities, Greek Councils, and students want the best APIDA fraternities and sororities on campus and they can find them in NAPA.
Contact
Hannah Seoh, Chair
National APIDA Panhellenic Association
chair@napa-online.org