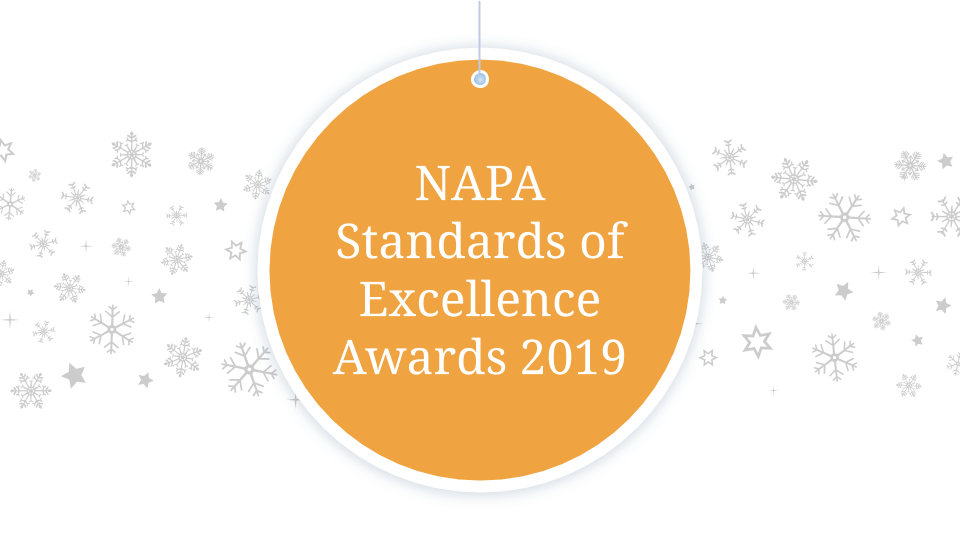 2019 NAPA Standards of Excellence Award Recipients
For Immediate Release
Anaheim, CA—The National APIDA Panhellenic Association hosted its annual Standards of Excellence Awards at the close of the 2019 Association of Fraternity and Sorority Advisors Annual Meeting (AFAAM).
"It's exciting to see so many amazing accomplishments from our organizations and members," says NAPA Chair Hannah Seoh. "For us it's a great way to close out the Annual Meeting in community and celebration of our community."
2019 Award Recipients
Individual Recognition
Advisor of the Year: Sheri Stevens, University at Albany Lambda Phi Epsilon
Change Agent of the Year: Arati Bhattacharya Saha (ΔΚΔ)
Professional of the Year: Aparna Divaraniya (ΔΚΔ)
Undergraduate of the Year: Alyssa Ledesma (ΔΦΩ)
Volunteer of the Year: Bilal Badruddin (ΔΕΨ)
Local Chapter Recognition
Outstanding Cultural Programming: Rutgers University Kappa Phi Lambda Sorority, Inc.
Outstanding Educational Programming: University of Nebraska–Lincoln Lambda Phi Epsilon Fraternity, Inc.
Outstanding Philanthropic Programming: University of Illinois at Chicago Delta Epsilon Psi Fraternity, Inc.
Outstanding Recruitment Programming: Rochester Institute of Technology Lambda Phi Epsilon Fraternity, Inc.
Outstanding University Council: University of Central Florida Diversified Greek Council
National Recognition
Alumni Initiative of the Year: alpha Kappa Delta Phi Alumnae Association
Foundation of the Year: alpha Kappa Delta Phi International Foundation
Publication of the Year: Alpha Phi Gamma F.Y.I. Newsletter
Social Media Campaign of the Year: Delta Epsilon Psi Fraternity, Inc. "Woman's History Month" Campaign
Collaboration of the Year: University of Nebraska–Lincoln Lambda Phi Epsilon Fraternity, Inc. APIDA Heritage Week
"I am continually blown away by the dedication and commitment of individuals and organizations within NAPA to elevate the standards of excellence for APIDA Greeks and create representation within the larger community," says NAPA Treasurer Pujitha Kallakuri. "I am proud to see the sheer number of exemplary individuals and organizations."
2019 Award Judges
The 2019 application cycle received 70 submissions reviewed by 12 judges across a mix of student affairs, fraternity/sorority headquarters, and corporate professional backgrounds.
Individual Recognition Award Judges
Bisma Gowani, Vice President Internal, Kappa Phi Gamma National Sorority, Inc.
Wanda Johnson, Alumna, Zeta Phi Beta National Sorority, Inc.
Priyanka Mehta, Alumna, Delta Phi Omega National Sorority, Inc.
Huong Truong, Graduate Assistant, Office of Fraternity and Sorority Life at the University of Missouri
Local Recognition Award Judges
Allison Chanthavong, Vice President External, Alpha Phi Gamma National Sorority, Inc.
Mat Greer, Coordinator, Coordinator for Fraternity and Sorority Life, Office of Student Activities at Temple University
Kody Guedes, Graduate Resident Director at Salem State University
Erika Rivera, Alumna, Gamma Alpha Omega National Sorority, Inc.
National Recognition Award Judges
Di'Monique George, Associate Director, Rochester Institute of Technology Associate Director for Student Engagement
Marie Hinds, National President, Lambda Tau Omega National Sorority, Inc.
Sharon Strange Lewis, Alumna, Alpha Kappa Alpha National Sorority, Inc.
Travis Roberts, Assistant Director, American University Fraternity & Sorority Life
"These are all exceptionally talented, selfless individuals that set great examples for their respective chapters and organizations," says Wanda Johnson of Zeta Phi Beta Sorority, Inc.
"It was very interesting getting to review organizations efforts from another council, as a Latino Greek it was actually very eye-opening and very enjoyable too see other Greeks of color really do some amazing work in the country," says Kody Guedes of Lambda Sigma Upsilon Fraternity, Inc. "I took great pride in being allowed to review the work that is being done. Everyone has worked extremely hard and the passion is showing continue to strive for greatness and continue to make a difference in the world!"
###
About NAPA
NAPA organizations set the gold standard for Asian Pacific Islander Desi American (APIDA) fraternities and sororities. In addition to meeting the association's base standards, NAPA member organizations are exposed to resources and expertise to help them continually improve and be the best they can be. Universities, Greek Councils, and students want the best APIDA fraternities and sororities on campus and they can find them in NAPA.
Contact
Hannah Seoh, Chair
National APIDA Panhellenic Association
chair@napa-online.org