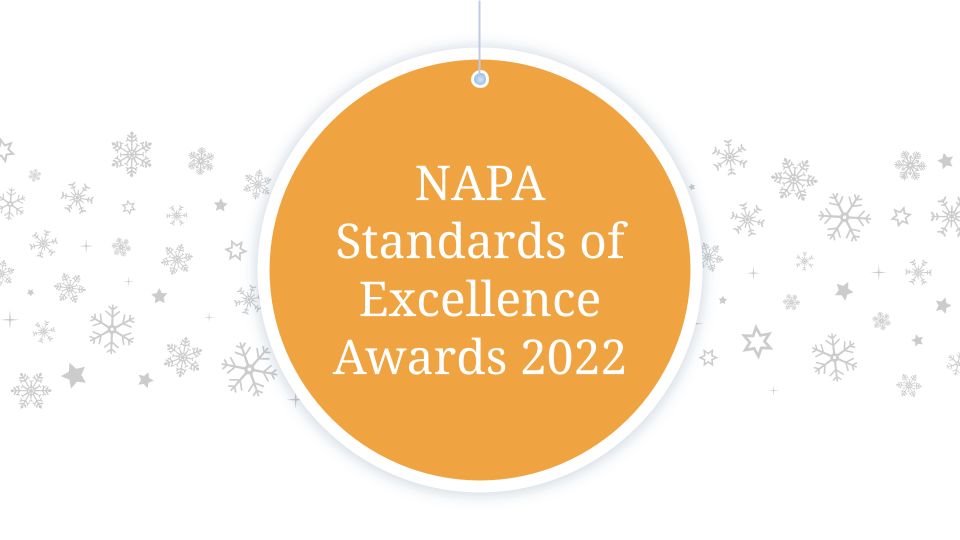 2022 NAPA Standards of Excellence Award Recipients
The National APIDA Panhellenic Association hosted its annual Standards of Excellence Awards at the close of the 2022 NAPA Annual Meeting. The ceremony convened in National Harbor, Maryland, marking a return to in-person events since the start of the COVID-19 pandemic.
"While we've faced various challenges and successes throughout this year, 2022 has provided ample reasons to commemorate the achievements of our Association," says NAPA Chair Teri Chung. " The annual awards ceremony signifies an exciting moment as we transition into 2023, as it offers an opportunity to reflect on the remarkable contributions of NAPA organizations and individual members who have left a positive imprint on our communities."
2022 Award Recipients
Individual Recognition
• Advisor of the Year: MGC Advisor, Texas A&M University
• Change Agent of the Year: Clifford Robin Temprosa (ΔΕΨ)
• Professional of the Year: Aparna Divaraniya (ΔΚΔ)
• Undergraduate of the Year: Yesha Pandit (ΔΦΩ)
• Volunteer of the Year: Suhani Shah (ΔΦΩ)
Local Chapter Recognition
• Outstanding Cultural Programming: AΦΓ at University of Nevada, Reno
• Outstanding Educational Programming: ΔΦΛ at University of Wisconsin–Madison
• Outstanding Philanthropic Programming: αΚΔΦ at University of Oklahoma
• Outstanding Recruitment Programming: αΚΔΦ at University of Texas at Dallas
• Outstanding University Council: Multicultural Greek Council at University of Texas at Dallas
National Recognition
• Alumni Initiative of the Year: αΚΔΦ Alumna Advisor Program
• Foundation of the Year: ΔΦΛ Foundation
• Publication of the Year: ΔΦΛ Everlasting Magazine
• Social Media Campaign of the Year: ΔΦΩ Women's History Month
• Collaboration of the Year: Speak Up or Forever Hold your Peace (ΔΦΛ, AΦΓ, ΔΦΩ, ΣΨΖ)
2022 Award Judges
The 2022 application cycle received 49 submissions reviewed by 7 judges across the fraternal advising community.
"Throughout the year, our members and their leaders consistently generated inventive and impactful ideas to contribute to both society and the broader APIDA community," commented NAPA Director of Membership Ruchir Dixit. The success of NAPA is intricately linked to the achievements of our member organizations, a connection that became evident while evaluating the award submissions."
###
About NAPA
NAPA organizations set the gold standard for Asian Pacific Islander Desi American (APIDA) fraternities and sororities. In addition to meeting the association's base standards, NAPA member organizations are exposed to resources and expertise to help them continually improve and be the best they can be. Universities, Greek Councils, and students want the best APIDA fraternities and sororities on campus and they can find them in NAPA.
Contact
Teri Chung, Chair
National APIDA Panhellenic Association
chair@napa-online.org
https://napahq.org/