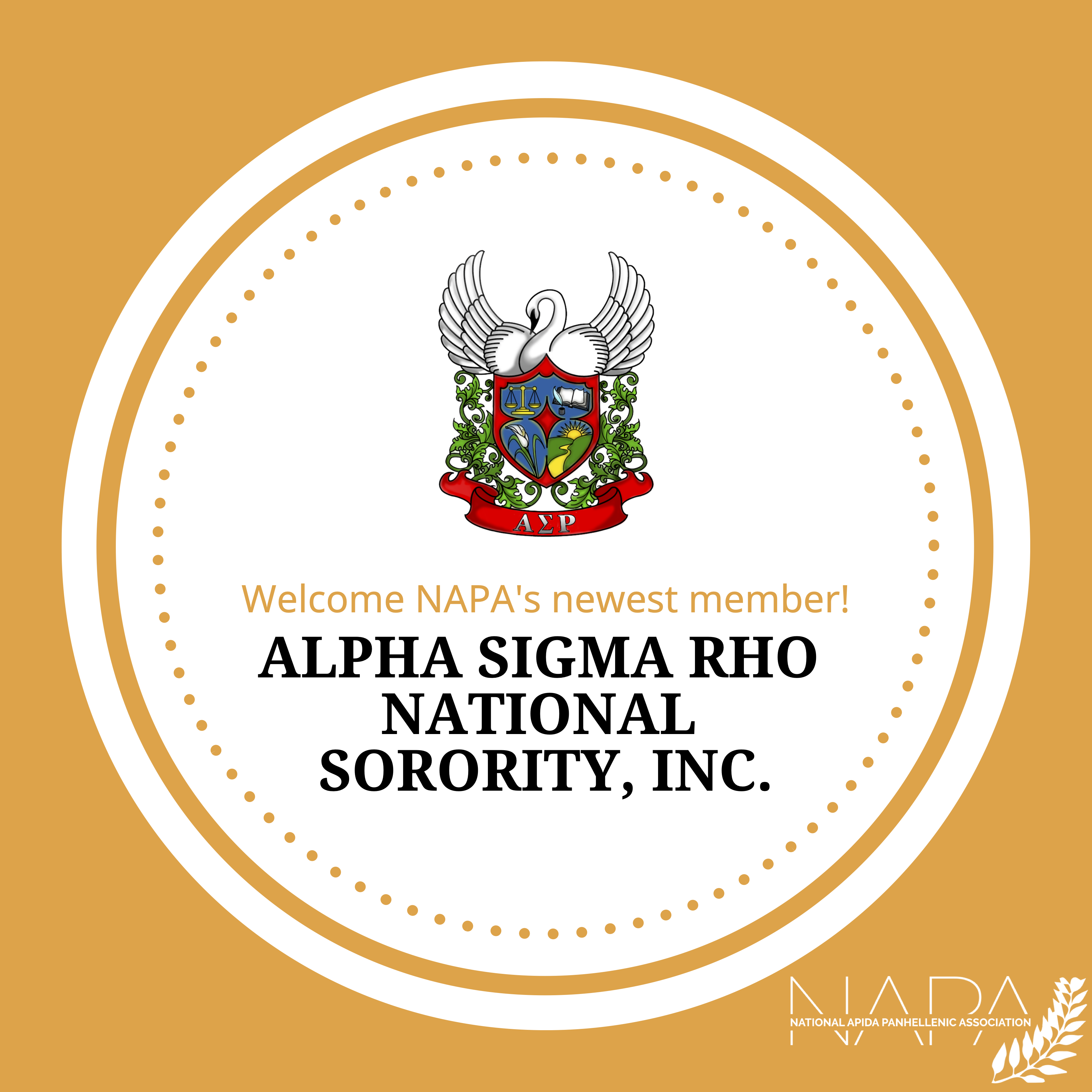 Alpha Sigma Rho Joins the NAPA Community
NAPA's Newest Sorority Affirms Association's Commitment to Expansion
The National APIDA Panhellenic Association is proud to welcome its newest member, Alpha Sigma Rho National Sorority, Inc. With charters granted in 10 universities across seven states concentrated in the southwest and east coast regions of America, Alpha Sigma Rho joins NAPA as the Association's 19th member organization effective March 30th, 2020.
"It has been four years since NAPA has added a member organization, and the addition of Alpha Sigma Rho exemplifies our mission of continuing to support the growth of APIDA fraternities and sororities," says NAPA Chair Bilal Badruddin. "We believe that Alpha Sigma Rho's membership will be mutually beneficial, and I look forward to seeing both NAPA and Alpha Sigma Rho grow."
Alpha Sigma Rho Sorority, Inc. was founded on April 2, 1998 at the University of Georgia at Athens. The organization was created to provide and serve as representation for Asian women within the university campus and the community. As the first Asian-interest sorority established in the state of Georgia, their founders aimed to build an organization that embodied Asian-awareness, diversity, academics, and sisterhood.
"When we received our invitation to join NAPA, it was the best news that we received in a while given what's going on in the world right now, and we are thankful for this opportunity," says Alpha Sigma Rho National President Elysia Boleware. "It is with our hope that Alpha Sigma Rho and NAPA organizations can unite to bring Asian awareness to the university campus and community as a means of providing education and understanding to those unfamiliar with Asian values and traditions; it is important that America sees more Asian representation and recognize that we are in this together."
"We enjoyed communicating with Alpha Sigma Rho's National Board throughout the entire affiliation process and are energized to see them flourish in our community," says Director of Research and Development Bryan Dosono. "We commit to providing them with resources and support to enable them fully to live their mission."
###
About NAPA
NAPA organizations set the gold standard for Asian Pacific Islander Desi American (APIDA) fraternities and sororities. In addition to meeting the association's base standards, NAPA member organizations are exposed to resources and expertise to help them continually improve and be the best they can be. Universities, Greek Councils, and students want the best APIDA fraternities and sororities on campus and they can find them in NAPA.
Contact
Bilal Badruddin, Chair
National APIDA Panhellenic Association
chair@napa-online.org