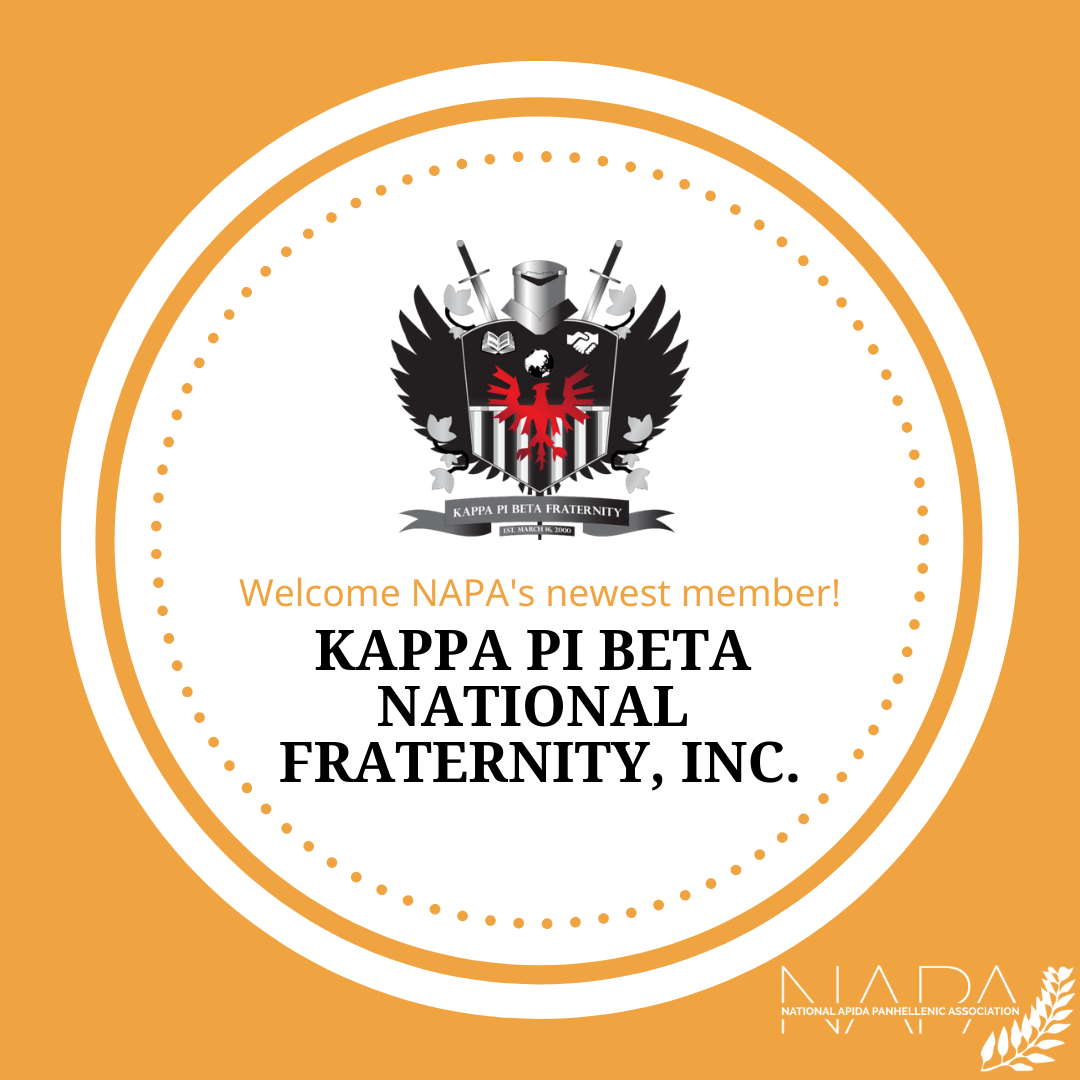 Kappa Pi Beta Joins As NAPA's 20th Organization
NAPA's Newest Member Affirms Association's Commitment to Incubating Fraternal Growth
The National APIDA Panhellenic Association is proud to welcome its newest member, Kappa Pi Beta Fraternity, Inc. With charters granted in five universities across three states centralized in the American Midwest region, Kappa Pi Beta joins NAPA as the Association's 20th member organization effective May 17th, 2020.
Kappa Pi Beta Fraternity was established in the spring of March 16, 2000 on the campus of Northern Illinois University. As a founding organization for both the United Greek Council at Northern Illinois University and the Greeks of the Pan Asian-American Council at the University of Illinois at Chicago, and a key reestablishment organization for the disbanded Multicultural Greek Council at the University of Missouri-Columbia, Kappa Pi Beta paved the way for future students and organizations to maximize their Greek experience on campus.
"It is with great pleasure that we accept Kappa Pi Beta as the 20th Member Organization of the National APIDA Panhellenic Association," says NAPA Chair Bilal Badruddin. "Even before submitting an application to join the NAPA, Kappa Pi Beta has been supportive of the association through their consistent engagement with the #NAPAUnity Challenge. I look forward to seeing how they continue to develop."
"It has been a challenging and exciting journey for our organization the past few years leading up to this point. Feeling the momentum and support from NAPA board members and member organizations has been a refreshingly inspiring experience," said Kappa Pi Beta National Board President J.R. Ellasos. "Internally, we intend to expand our operations and establishments beyond Midwest borders and continue creating a more positive and nurturing environment for our members through improved training, programming, and mentorship initiatives. Externally, we hope to continue to take on projects in which success is defined by the bridges built, barriers broken down, and common ground created among ourselves and the ADIPA community."
"Having collaborated with the leadership of Kappa Pi Beta in previous capacities, I'm delighted to see them continue their next phase of growth through their membership with NAPA," said Director of Research and Development Bryan Dosono. "The strength of NAPA comes from the diversity of its members, and we're excited to see how they will contribute and shape our multicultural mosaic."
###
About NAPA
NAPA organizations set the gold standard for Asian Pacific Islander Desi American (APIDA) fraternities and sororities. In addition to meeting the association's base standards, NAPA member organizations are exposed to resources and expertise to help them continually improve and be the best they can be. Universities, Greek Councils, and students want the best APIDA fraternities and sororities on campus and they can find them in NAPA.
Contact
Bilal Badruddin, Chair
National APIDA Panhellenic Association
chair@napa-online.org