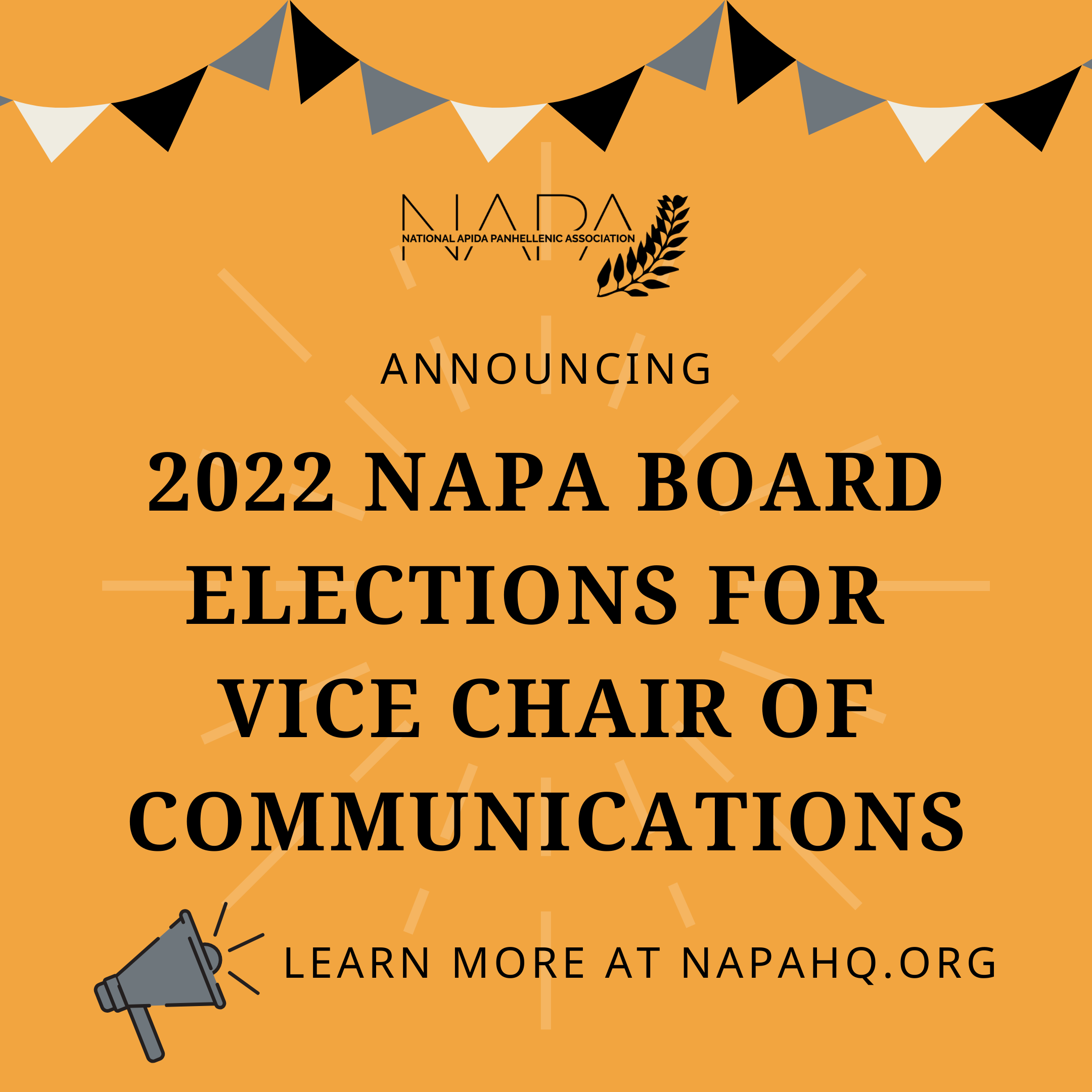 NAPA Board Elections 2022: Vice Chair of Communications
NAPA Board Elections 2022: Vice Chair of Communications
On behalf of the National APIDA Panhellenic Association (NAPA) headquarters, we hereby announce the 2022 elections for Vice Chair of Communications open. The overall Board shall be responsible for executing the agenda and policies of NAPA during the process.
All applicants must meet the following requirements to be eligible for candidacy:
Must be a member of a current NAPA member organization
Must be an alumna/alumnus in good standing, preferably a member who is 4 years post-graduation
The elected Vice Chair of Communications will fulfill the following duties and responsibilities:
Vice Chair of Communications, 2022-2024
As Vice Chair of Communications, you work closely with the Executive Board on the strategic planning of NAPA and the advancement of the AAGLO fraternal movement. The Vice Chair of Communications will oversee accurate record keeping of NAPA meetings and the branding of our association. A successful Vice Chair of Communications will maintain strong relationships with the Past Chair, Chair, Vice Chair, Treasurer, Director of Membership, Staff Directors, our membership organizations, and other stakeholders.
Duties and Responsibilities
Sets the strategic direction of NAPA with Executive Board
Oversee and manage NAPA meetings, archives, and branding
Develop and release a (bi)annual internal and public annual report
Lead the planning and execution of our annual conference in collaboration with the rest of NAPA board
Oversee our Director of Records
Oversee our Director of Marketing
Develop initiatives as needed
Required Skills & Qualifications
3+ years in the NAPA-affiliated organization. Alumni status in a member organization.
Preferred Skills & Qualifications
4+ years of volunteer board experience on National Board and/or related nonprofit and community organizations.
Required Meetings
Monthly NAPA remote conference calls with member organizations
NAPA Board & Officer remote conference calls
Attendance at two NAPA Board Meetings (tentatively April and October)
Attendance at Association of Fraternity/Sorority Advisors (AFA) Annual Meeting in December
Applications are due by 11:59 p.m. EST on Friday, April 22nd and should include:
The elected officer will begin their two-year term in May. The position is a volunteer position with an expected 10-15 hours of service per month. Candidates are expected to attend and participate in a Q&A session that will be held during NAPA's monthly call on Sunday, May 1st at 8pm EST. More information will follow after the application period.
As active alumnae/alumni members of the fraternal community, we encourage you to consider serving our community in a greater capacity by applying for the NAPA Executive Board. For any inquiries and/or concerns, please address them to chair@napa-online.org.
###
About NAPA
NAPA organizations set the gold standard for Asian Pacific Islander Desi American (APIDA) fraternities and sororities. In addition to meeting the association's base standards, NAPA member organizations are exposed to resources and expertise to help them continually improve and be the best they can be. Universities, Greek Councils, and students want the best APIDA fraternities and sororities on campus and they can find them in NAPA.
Contact
Teri Chung, Chair
National APIDA Panhellenic Association
chair@napa-online.org