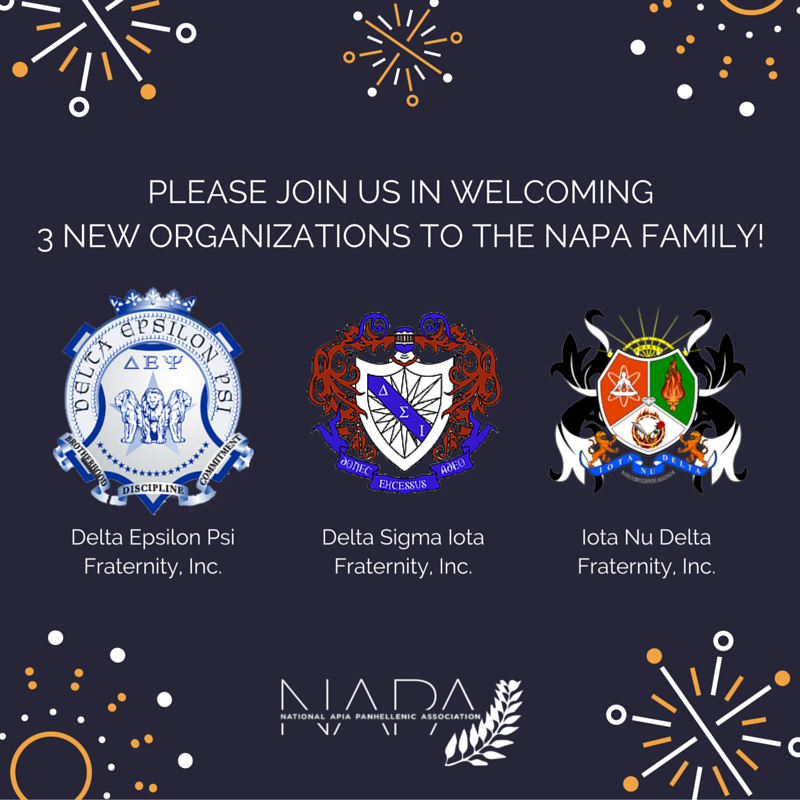 NAPA Welcomes Three New Member Organizations
Addition of Three Fraternities Reflects NAPA's Commitment to South Asian Greek Community
February 12, 2016 — The National APIA Panhellenic Association (NAPA) is proud to welcome three new members: Iota Nu Delta Fraternity, Inc.; Delta Epsilon Psi Fraternity, Inc.; and Delta Sigma Iota Fraternity, Inc. With a strong commitment to raising awareness of South Asian culture, NAPA's newest members have a combined presence of over 60 chapters across the nation and bring the Association's overall membership to 17 Asian American Greek Letter Organizations total.
"We feel a great sense of pride in welcoming three South Asian-interest fraternities as NAPA members," said Hannah Seoh, NAPA Chair. "It speaks to the dedication of our membership to be inclusive of the entire APIDA (Asian Pacific Islander Desi American) community, and we look forward to their contributions as NAPA members."
Iota Nu Delta, founded at SUNY Binghamton in 1994, is the nation's first South Asian-interest fraternity. With two core philosophies of Brotherhood Eternal & Shakti and three pillars of mind, body, and soul, Iota Nu Delta has forged partnerships with national organizations including Active Minds, National Marrow Donor Program, and South Asian Americans Leading Together (SAALT).
"Iota Nu Delta appreciates the work NAPA has done for the Asian American community, and we are eager to embrace our new strategic partnership," said Vishal Vyas, National President. "As a member, we look forward to new lines of communication, friendship, opportunity, and collaboration."
Delta Epsilon Psi was founded in October 1998 at the University of Texas at Austin. Since inception, Delta Epsilon Psi has annually donated over $45,000 to its national philanthropy, the Juvenile Diabetes Research Foundation, and has documented over 20,000 community service hours across the nation. With over 30 chapters and colonies, Delta Epsilon Psi has grown to become the largest South Asian fraternity in the U.S.
"Delta Epsilon Psi Fraternity, Inc. is ecstatic to gain membership in NAPA," stated Neal Daftary, National President. "We hope that, with this new venture, Delta Epsilon Psi Fraternity, Inc. & NAPA's members will combine their resources to continuous to support our local communities through social and service endeavors, and create unique opportunities for young men and women during their academic careers."
Founded in August 2000 at The Pennsylvania State University, Delta Sigma Iota is committed to cultivating men who will leave a positive mark in their communities through the organization's core pillars of Service, Education, and Unity. Atindra Garigipati, National President of Delta Sigma Iota, stated, "Our fraternity thought that it was in the best interest of our future and continued growth to join NAPA. I believe our fraternity will greatly benefit from the communication and future interactions that we will have with the rest of the member organizations in the Association."
Iota Nu Delta, Delta Epsilon Psi, and Delta Sigma Iota will be formally seated in NAPA on February 8, 2016.
About NAPA
Founded in 2005, NAPA serves to advocate for the needs of its member organizations and provide a forum to share ideas and resources. NAPA supports the development of positive relations through open communication with interfraternal partners to enrich the fraternal experience.