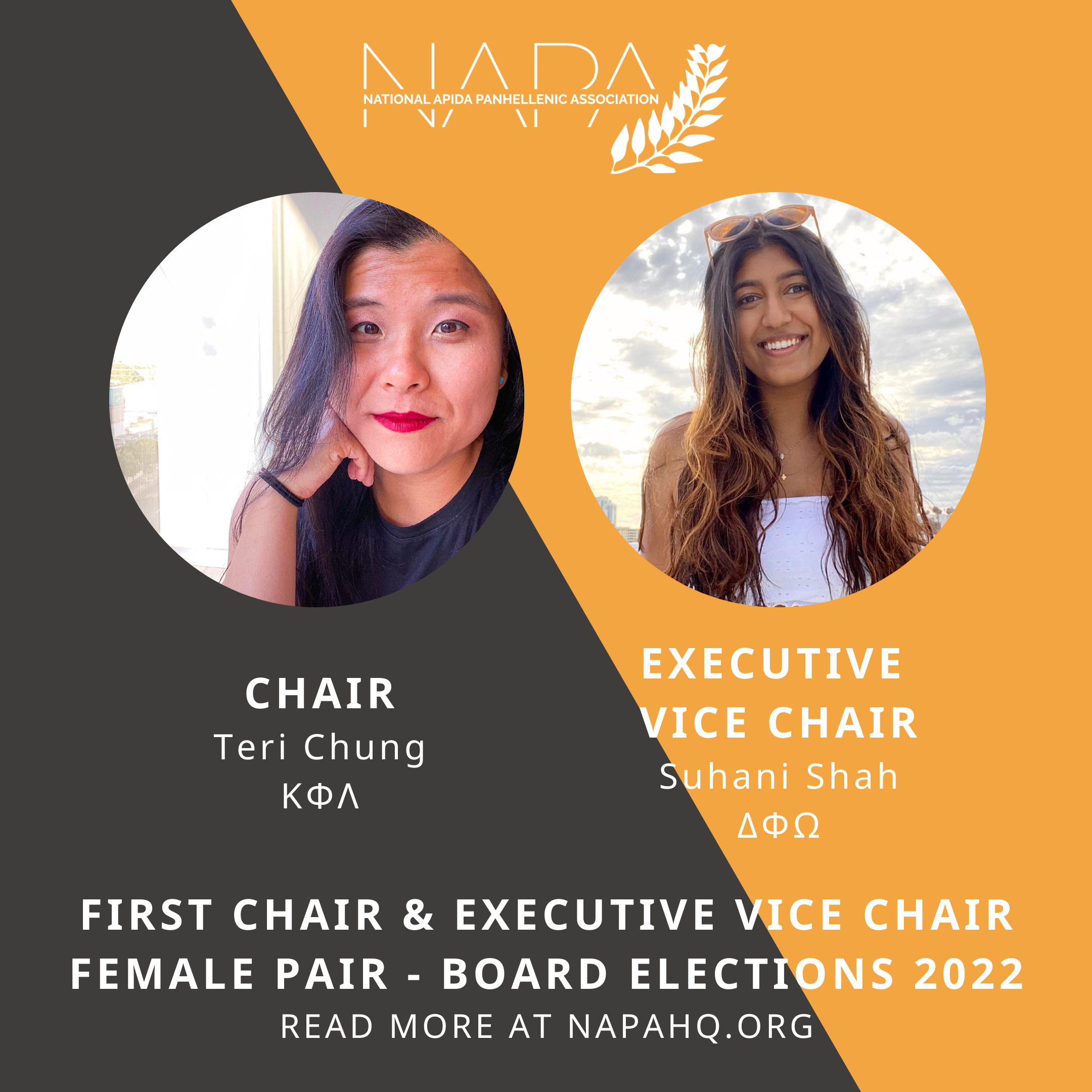 Teri and Suhani Elected to NAPA Board
Teri and Suhani Elected to NAPA Board as the First Chair and Executive Vice Chair Female Pair
For Immediate Release
NAPA announces the election results of Teri Chung as its Chair and Suhani Shah as its interim Executive Vice Chair. Teri previously served NAPA in various roles including Secretary, lead for the Constitution Bylaws committee, and most recently as Executive Vice Chair. Suhani previously served as Vice Chair of Communications and as lead for the RAINN partnership.
Teri is a Fall 2010 initiate of Kappa Phi Lambda Sorority, Inc. at the University of Connecticut. "I am incredibly honored to be NAPA Chair and serve the membership in this role. I never thought that after my almost 7 years of service to NAPA I would serve in this capacity but am very excited and energized to do so. I cannot wait for the great work and change we will work towards in this Association." says Teri. She adds, "As NAPA approaches its quindecennial it is imperative that take this historical moment to reflect on our past 15-year history and move forward in advocating for our community, work with various partners like campus-based professionals, non-profit organizations, and our member organizations in order to expand and better NAPA and APIDA Greek Life as a whole."
In addition to her role on NAPA Board, Teri received her JD Degree from the University of Massachusetts, Dartmouth and has been serving as an Assistant District Attorney for Bronx County in New York City since September 2017. Teri differs from many of her predecessors and provides a fresh perspective to the role of Chair, as she has worked with many non-profit APIDA organizations throughout her undergraduate and legal education in addition to serving as the Chief Compliance Officer, VP of Risk Management, Warden, and a Program Advisor of Kappa Phi Lambda Sorority, Inc. for the past 7 years.
Suhani is a Fall 2014 initiate of Delta Phi Omega Sorority, Inc. at Northeastern University. "I'm excited and honored to continue to serve NAPA in the capacity of interim Executive Vice Chair. It's been a privilege getting to work so closely with all of our organizations over the past 2 years on the RAINN initiative, and I hope to continue to create spaces in our association that encourage unity amongst our members," says Suhani. She will be the first South Asian/Desi woman to serve as Executive Vice Chair in NAPA's history. She adds, "There's a lot more we can do to strengthen our community and the impact we make in the APIDA affirming space. My vision is for NAPA to be a leader in that space and at the forefront of change. I'm ecstatic to see what the future holds for us." Suhani currently works as a product manager and designer for a tech startup focused on providing technology to underserved communities and tackling climate change through proper technology recycling practices.
The Past Chair, Bilal Badruddin, states, "I am excited that Teri and Suhani have taken on the roles as Chair and Executive Vice Chair, respectively. The two work extremely well together, and have been integral in moving the APIDA fraternity and sorority community forward. I know that their passion and fortitude will continue to elevate APIDA Greek-letter Organizations."
Teri's two-year term on the NAPA Executive Board began at the conclusion of the NAPA Annual Meeting on December 5th, 2021. Suhani was chosen by the NAPA Executive Board to fill the role of interim Executive Vice Chair shortly after on January 25, 2022. Her term will continue until the next NAPA Annual Meeting in December 2022.
###
About NAPA
NAPA organizations set the gold standard for Asian Pacific Islander Desi American (APIDA) fraternities and sororities. In addition to meeting the association's base standards, NAPA member organizations are exposed to resources and expertise to help them continually improve and be the best they can be. Universities, Greek Councils, and students want the best APIDA fraternities and sororities on campus and they can find them in NAPA.
Contact
Teri Chung, Chair
National APIDA Panhellenic Association
chair@napa-online.org
https://napahq.org/