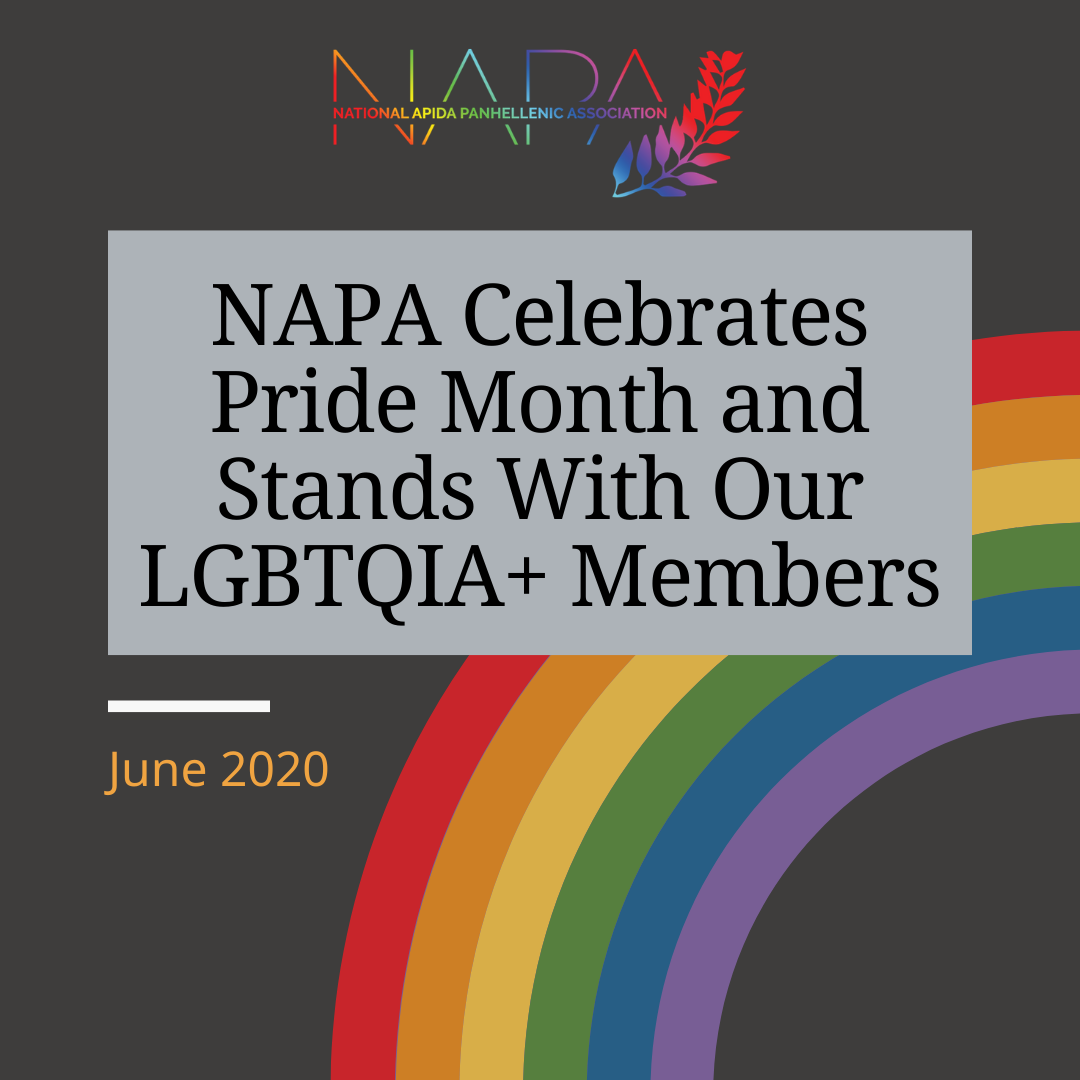 NAPA Celebrates Pride Month
June 30, 2020
The National APIDA Panhellenic Association celebrates the accomplishments of the LGBTQIA+ community and stands in solidarity with our LGBTQIA+ members.
As Pride Month comes to a close, the National APIDA Panhellenic Association (NAPA) celebrates the accomplishments of the LGB/TGNC (Lesbian, Gay, Bisexual / Trans*, Gender Nonconfirming) community and recognizes that celebration and education of LGBTQIA+ rights is needed year-round, and not just in June. NAPA organizations have a history of activism; fighting against cultural discrimination, and seeking acceptance and support for the APIDA community. We acknowledge the diversity of our members extends past just their ethnicity, and for some includes the LGB/TGNC intersection that has a long-standing history with fraternities and sororities (Rankin et al., Lambda 10 Project, 2007). Pride, whether in or out of Greek life, is about love, education, and fighting for these rights, which have played an important role in shaping the history of the United States.
On the morning of June 28, 1969, New York City police raided the Stonewall Inn, a nightclub in Greenwich Village which was known to be a space where members of the LGBTQ community could socialize. Policemen aggressively arrested employees and patrons. The response from the community ignited what became known as the Stonewall Riots or Stonewall Uprising, which History.com states was, "a catalyst for the gay rights movement in the United States and around the world."
One prominent figure in the Stonewall Uprising of 1969 was Marsha P. Johnson, a Black Trans* woman, who was also a prominent advocate for the LGB/TGNC community. Johnson helped lead a series of protests in response to the raid and dedicated much of her life to helping others, and aspired "to see gay people liberated and free and to have equal rights that other people have in America."
Now, more than ever, it is imperative to recognize the work that Black individuals have done to uplift and create progress for all marginalized communities. By condemning racist actions against the Black community, NAPA understands the implications of race-based violence, but wants to specifically shine light on the loss of individuals who are at the intersections of Black & Trans*/Gender-Nonconforming identities. NAPA organizations were founded by APIDA-identifying individuals that came together amidst discrimination and marginalization. We cannot be complicit while valuable lives in the marginalized Black LGBTQIA+ community—like Dominique Fells, Riah Milton, Tony McDade, Nina Pop and so many more—are lost. Black Lives Matter. Black Trans Lives Matter. Black Queer Lives Matter, All Black Lives Matter.
Please see the list of references and resources used regarding LGBTQIA+ history and links to APIDA LGBTQIA+ resources (not comprehensive):

NAPA is proud that more than half of our member organizations have policies inclusive of Trans* members, and we are committed to advocating for Queer rights, particularly for Asian and Black Americans, and fighting to address the obstacles many LBG/TGNC community members experience. We stand in solidarity with the Black Queer community and the LGBTQIA+ individuals within our member organizations. Let us not stop fighting for justice and equality. Happy Pride Month.
###
About NAPA
NAPA organizations set the gold standard for Asian Pacific Islander Desi American (APIDA) fraternities and sororities. In addition to meeting the association's base standards, NAPA member organizations are exposed to resources and expertise to help them continually improve and be the best they can be. Universities, Greek Councils, and students want the best APIDA fraternities and sororities on campus and they can find them in NAPA.
Contact
Bilal Badruddin, Chair
National APIDA Panhellenic Association
chair@napa-online.org