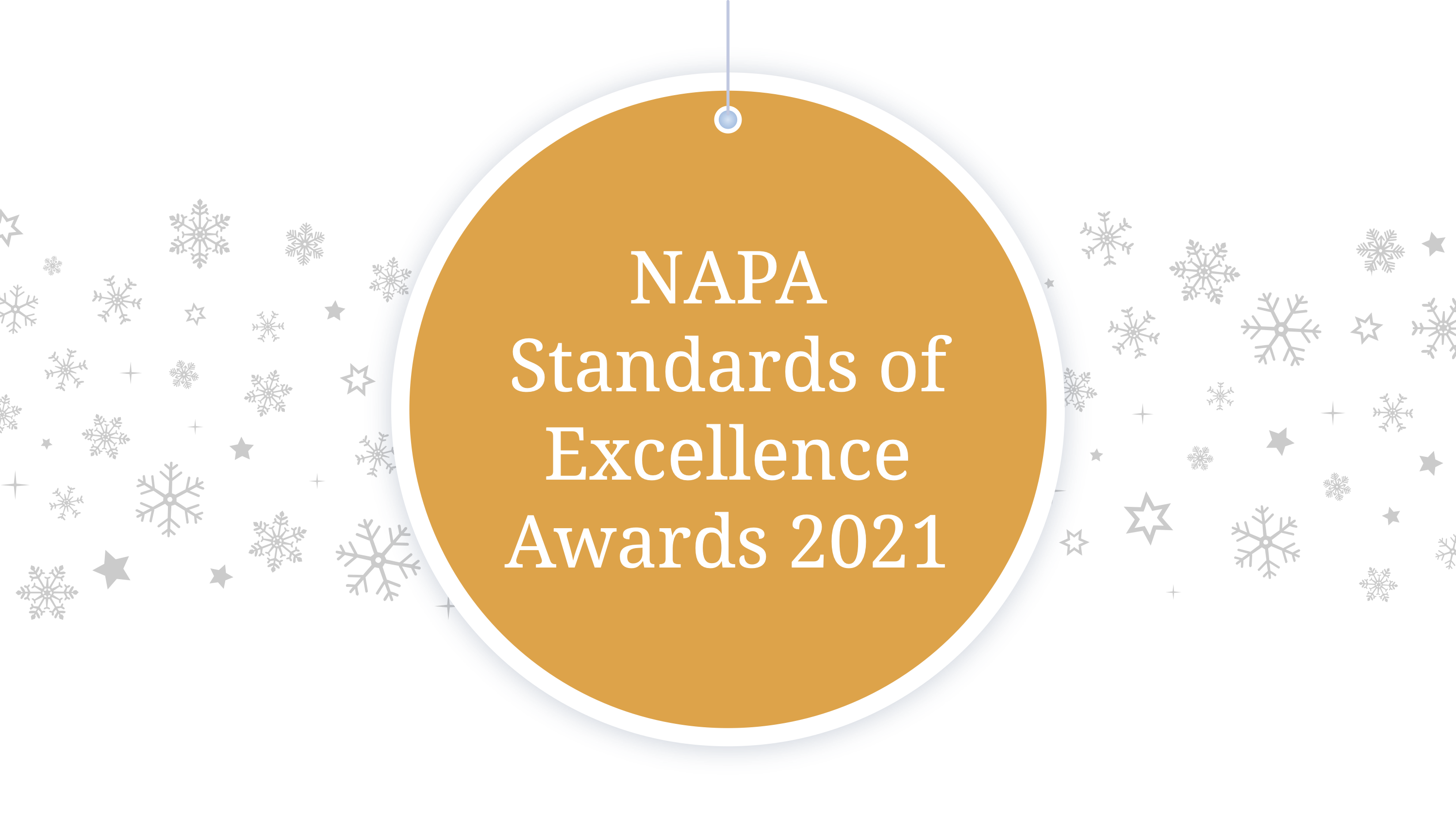 2021 NAPA Standards of Excellence Award Recipients
The National APIDA Panhellenic Association hosted its annual Standards of Excellence Awards at the close of the 2021 NAPA Annual Meeting. Like last year, the ceremony convened over Zoom as the annual meeting persisted through a virtual format due to the ongoing COVID-19 pandemic.
"Although we have had our ups and downs this year, 2021 has been a year to celebrate so many of our Association's triumphs. We celebrate the end of this year looking back at all the incredible NAPA organizations and individual members who have made an impact in our communities," says
NAPA Chair Teri Chung. "The annual awards ceremony is an excellent time as we continue to move forward into 2022, and look forward to the many more accomplishments this Association will make."
2021 Award Recipients
Individual Recognition
• Advisor of the Year: Mat Greer, FSL Temple University
• Change Agent of the Year: Dr. Meenal McNary (ΔΚΔ)
• Professional of the Year: David Kim (ΛΦΕ)
• Undergraduate of the Year: Marilyn Korah (ΔΚΔ)
• Volunteer of the Year: Suhani Shah (ΔΦΩ)
Local Chapter Recognition
• Outstanding Cultural Programming: ΛΦΕ at Baylor University
• Outstanding Educational Programming: ΛΦΕ Noble Brother Program – Continuing Education
• Outstanding Philanthropic Programming: ΣΨΖ at Indiana University–Purdue University Indianapolis
• Outstanding Recruitment Programming: ΛΦΕ at University of Minnesota
• Outstanding University Council: Inter-Cultural Greek Council James Madison University
• Outstanding Virtual Programming: ΛΦΕ International Women's Day Keynote
National Recognition
• Alumni Initiative of the Year: ΑΦΓ Webinar Series
• Foundation of the Year: Asian American Donor Program (ΛΦΕ)
• Publication of the Year: ΔΚΔ Annual Report
• Social Media Campaign of the Year: ΔΚΔ "Spread the Love" Campaign
• Collaboration of the Year: Sexual Assault Awareness Month (ΔΕΨ & ΛΦΕ)
2021 Award Judges
The 2021 application cycle received 73 submissions reviewed by 5 judges across the fraternal advising community.
• L.C. Coghil, Director of Fraternity and Sorority Life at Binghamton University
• Brian Pearlman, Graduate Assistance Office at FSL at Southern Illinois University Edwardsville
• Stacy Rowan, Assistant Director of Fraternity and Sorority Life at UAB
• Jake Bates, Associate Director of Student Involvement for FSL at Lafayette College
• Nicki Rowlett, Senior Director of Leadership Programs at Triangle Fraternity
"With 2021 being a rollercoaster of a year, one thing stayed true; the success and determination of our member organizations was unmatched. Through and through, our members and organizational leadership thought of new and innovative ideas to make a difference in society and the greater APIDA community," says NAPA Director of Membership Ruchir Dixit. "The success of NAPA is nothing without the success of our member organizations and it truly showed when reviewing these award submissions."
###
About NAPA
NAPA organizations set the gold standard for Asian Pacific Islander Desi American (APIDA) fraternities and sororities. In addition to meeting the association's base standards, NAPA member organizations are exposed to resources and expertise to help them continually improve and be the best they can be. Universities, Greek Councils, and students want the best APIDA fraternities and sororities on campus and they can find them in NAPA.
Contact
Teri Chung, Chair
National APIDA Panhellenic Association
chair@napa-online.org
https://napahq.org/