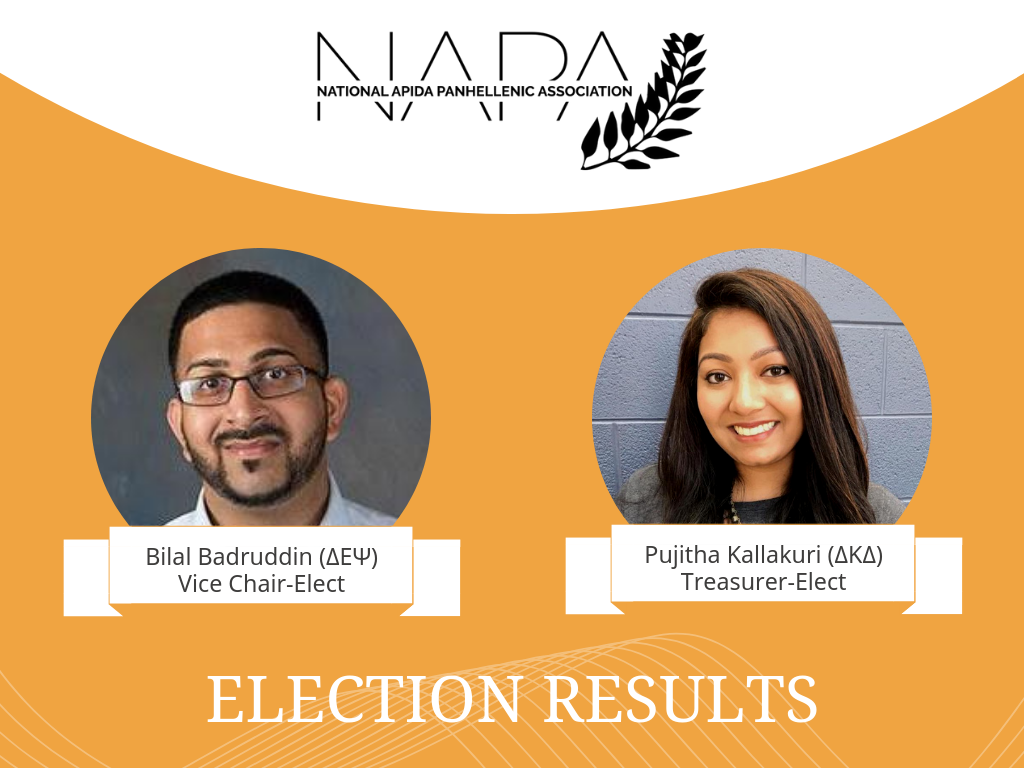 Badruddin and Kallakuri Elected to NAPA Board
NAPA announces the election results of Bilal Badruddin as its new Vice Chair-Elect and Pujitha Kallakuri as its new Treasurer-Elect. The NAPA Executive Board now comprises half of its leadership from members from South Asian fraternal organizations, signifying increased representation from NAPA's growing Desi American community.
Badruddin is a summer 2008 initiate of Delta Epsilon Psi at Temple University. "My goals for NAPA, are that we empower our member organizations to act, and that we set the standard for fraternal trade-associations," says Badruddin. "I believe that this goal can be achieved by meeting the expectations of our organizations, and then being proactive about how we support member organizations in the future." In addition to his pursuing his doctoral studies in higher education leadership and policy, he currently serves as the Senior Special Assistant to the Vice President of Development and Alumni Relations at Howard University.
Kallakuri is a Fall 2009 initiate of Delta Kappa Delta at University of Illinois at Urbana-Champaign. "I have had the privilege of seeing all of the organizations under the umbrella grow in tandem with NAPA over the last several years, and believe we are in an optimal position to take the mission and vision of NAPA to new heights by increasing visibility in the fraternal community through engagement and communication, both within and outside of our member organizations, and setting and achieving goals more assertively," says Kallakuri . "A vital contributor to these goals will be NAPA's financial health and investments. I understand that the allocation of resources is extremely important to our organizations, and want to make sure that not only are we in good financial standing, but that we are also using our resources to invest in our member organizations growth appropriately." She currently works as the Regional Therapies Program Manager of the University of Chicago Medicine Comprehensive Cancer Center.
According to NAPA Chair Hannah Seoh, "It is always exciting to see new leadership emerge, especially when our Directors move into Executive Board roles. I know that Bilal and Pujitha will bring their perspectives to further NAPA's mission, and I'm looking forward to working with them in the next year."
Both Badruddin and Kallakuri have previously served as the National President of their respective fraternity and sorority. Their newest term on the NAPA Executive Board begins at the conclusion of the NAPA Annual Meeting, scheduled on December 1st, 2018 at Indianapolis, Indiana.
###
About NAPA
NAPA organizations set the gold standard for Asian Pacific Islander Desi American (APIDA) fraternities and sororities. In addition to meeting the association's base standards, NAPA member organizations are exposed to resources and expertise to help them continually improve and be the best they can be. Universities, Greek Councils, and students want the best APIDA fraternities and sororities on campus and they can find them in NAPA.
Contact
Hannah Seoh, Chair
National APIDA Panhellenic Association
chair@napa-online.org