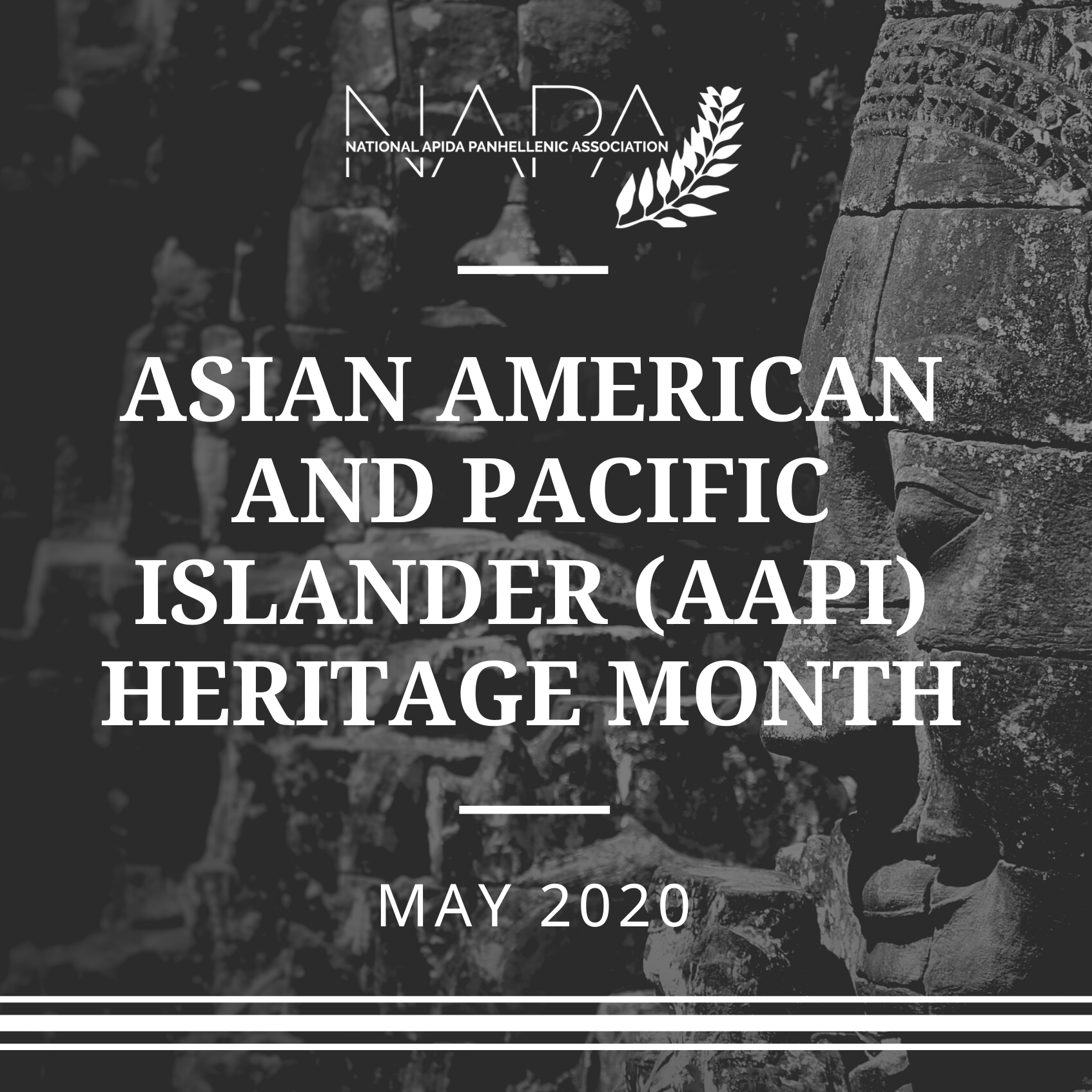 NAPA Recognizes and Celebrates AAPI Heritage Month
May 2020
Asian American and Pacific Islander (AAPI) Heritage Month
May is Asian American and Pacific Islander (AAPI) Heritage Month. It celebrates the culture, traditions, history, and achievements of Asian Americans and Pacific Islanders in the United States. The month of May was chosen to commemorate the arrival of the first Japanese immigrants to the United States on May 7, 1843. AAPIs trace their heritage to over 30 different countries and ethnic groups, and speak over 100 different languages and dialects.
The National APIDA Panhellenic Association (NAPA) and its member organizations are observing AAPI Heritage Month in a variety of ways, and encourage member organizations, other cultural organizations, and Greek and non-Greek individuals to take part in the celebration of APIDA cultures and heritages. Although we may be separated by distance as a result of the COVID-19 pandemic, we would like to honor the rich culture of the APIDA community in the United States by providing some educational resources related to APIDA and AAPI Heritage Month. While this list is by no means exhaustive, we hope it spurns spurs and continues the conversation, and inspires you to share your #APAHM / #AAPIHM / #AAPIHeritageMonth story.
Educational
Watch the first episode here
AAPI Organization/Community Involvement
Get involved in a local AAPI or APIDA organization near you or at a national level
Or get involved in APIAVote, an initiative to support and mobilize AAPI voters and communities, during this presidential election year
Explore the #ImReady Movement through AAPI Women Lead to raise visibility around self-identified AAPI womxn and experiences
COVID-19 Related
###
About NAPA
The National Asian Pacific Islander Desi American Panhellenic Association shares a commitment to fraternal unity and assisting our membership in advancing the fraternal experience. Formally organized in 2006, NAPA is currently comprised of 20 culturally-based member organizations.
Contact
Bilal Badruddin, Chair
National APIDA Panhellenic Association
chair@napa-online.org